The Tillamook County Board of Commissioners heard lengthy public testimony regarding cap and trade legislation this past Wednesday, Feb. 26. The commissioners were slated to vote on a resolution opposing Oregon Senate and House bills, drawing a crowd of interested citizens.
The meeting room was filled to capacity with several people left standing in the back. Prior to the vote, commissioners heard an hour of public comments – most of it opposing the bills that sparked a walkout of Oregon Senate and House Republicans, who said Senate Bill 1530 and House Bill 4167 would be harmful to the state's economy.
Tillamook County Resolution No. 20-003 states that Tillamook County's 26,000 citizens include many employed in farming, forestry and fishing industries, and that SB 1530 and HB 4167 would directly increase fuel costs, affecting how products are hauled into and out of the county, driving up product prices and cutting into revenue for locally owned businesses, possibly resulting in lost jobs.
The resolution highlights Tillamook County's copious forest land and output of wood products as significant carbon sequestration assets for the state, claiming that the county might already be carbon neutral. It questions the use of the quick-fix oriented short legislative session to address complex cap and trade bills and calls for a public vote on the matter.
Citing the county's housing crisis and the subsequent number of workers who commute from outside the area, the resolution states that increased fuel costs would cause a negative impact on local business. It also states increased costs would add to the difficulties faced by already rent-burdened residents of the county.
Commissioners David Yamamoto, Mary Faith Bell and Bill Baertlein voted unanimously in support of the resolution. Yamamoto said he feels strongly that the issue should go to Oregon voters. He noted an amendment package for SB 1530 that was received just before it passed out of committee, saying that was not good governance.
"To me, this is not a carbon reduction bill … it's taxing people that do put carbon into the air," Yamamoto said. "One of the biggest issues I see is that there is no transparency on who in the Legislature is going to have the authority to distribute these billions of dollars and who it's going to; there is nothing in the bill that specifies that any of this is public information."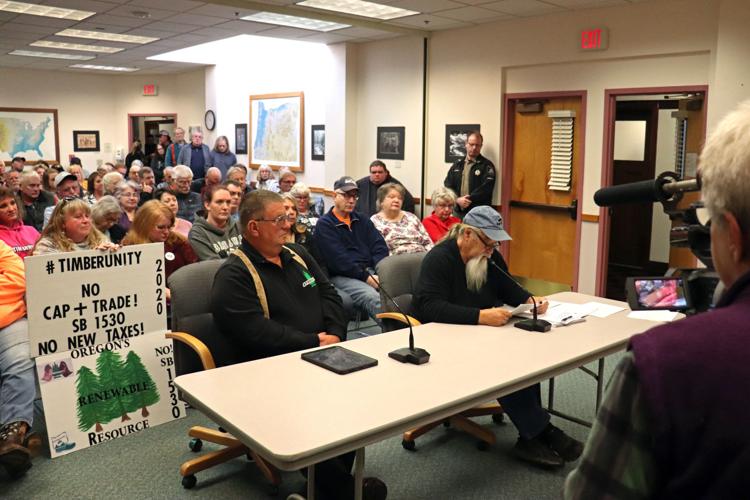 Tillamook Mayor Suzanne Weber, a candidate for the Oregon House running against State Rep. Tiffiny Mitchell (D-Astoria), applauded the resolution. She asked for consideration on behalf of businesses that rely on trucked deliveries as well as the possible impact on wages. Weber said many levels of government are weighing the negative outcomes of cap and trade legislation.
Bay City Councilor David McCall, a candidate for the Tillamook County Board of Commissioners running for Yamamoto's position, was chairman of the environmental caucus of the Democratic Party of Oregon for the past three years. He said in 2018, clean energy jobs legislation was established as a priority that has not seen follow-through.
McCall said the county resolution gives the opportunity to make a statement regardless of whether the cap and trade bill is dead or not. He suggested tabling the resolution to flesh it out with examples of how Tillamook County "does it right," in terms of proactive environmental custodianship.
"So many improvements and advancements have been made, not just in the timber industry but also in the dairy industry, fishing industry, we have done an incredible job innovating and progressing with history," McCall said.
Public comments opposing the county resolution raised concerns that it would send a message in support of the Oregon Republicans' walkout, seen by some as an end-run against the legislative process. There was also comment that the resolution does not heed climate change concerns. The dangers of the greenhouse gas methane were also raised, as were the potential reinvestment benefits of an emissions tax.
Environmental advocate Carl Whiting disputed the notion of carbon neutrality in Tillamook County. He said scientific research indicates the timber industry is by far Oregon's largest carbon emitter. Whiting said the future infrastructure costs caused by climate change outweigh the present costs to protect the environment.
"You can ignore the science and deal in speculation, or you can read the science and rethink what you send to the state," Whiting said.
Yamamoto cited a pair of recent studies in response, saying Oregon forests sequester 31 million metric tons of carbon a year. He said another study is forthcoming regarding the sequestration of carbon in finished wood products.
Researchers at Oregon State University and the University of Idaho have corroborated the Center for Sustainable Economy's research showing logging as the primary source of greenhouse gas emissions in Oregon. It was estimated that annual logging-related emissions have averaged over 33 million metric tons of carbon dioxide equivalent per year since 2000, more than the 23 million metric tons attributed to transportation.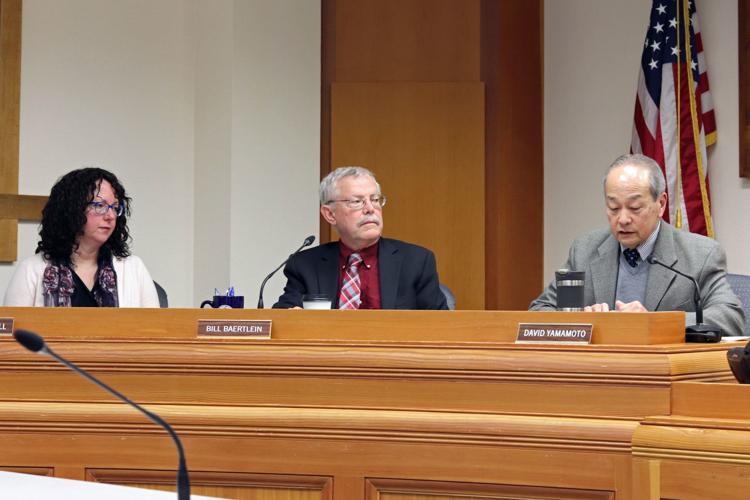 Before voting, Bell recalled discussing cap and trade legislation with Mitchell. Bell said she was told rural communities such as Tillamook County would be exempt from the bills, which she shared with people before learning it was untrue. There will be exemptions for some, but Tillamook County won't be eligible because of its level of fuel consumption.
"So, then I read the damn bill," Bell said. "And I have to tell in a word, it's crap."
Bell said the bill language was complicated, not informative, and lacking any promise of reduced carbon output. She said further reading gave her the impression it was a taxation bill going through the wrong process.
"We're limited in Tillamook County on economic development because we don't have natural gas and we don't have a rail line," Bell said. "Everything that comes into Tillamook County and leaves Tillamook County is by truck. So, our economy will absolutely be impacted negatively by this bill in a way that isn't going to benefit us here or in the state."
Baertlein said the Legislature is ignoring the American way in taking a bad bill and shoving it down peoples' throats. He said SB 1530 is not a budgetary bill and should have come through in the regular session. Baertlein also suggested a petition to end the short session if it isn't used properly.
"I don't want anybody in this room to think I don't believe that carbon is causing a problem in our air," he said. "But doggone it, Tillamook County does things right – we've got a reputation for taking care of the environment."
In closing and in response to concerns about methane, Baertlein said Tillamook County has some of the most "efficient" dairy cows in the world, with a single animal producing what he said is the same amount of milk it takes 19 cows in India to produce, thus 19 times more methane. He joked about sending a dairy delegation to India to share the Tillamook method.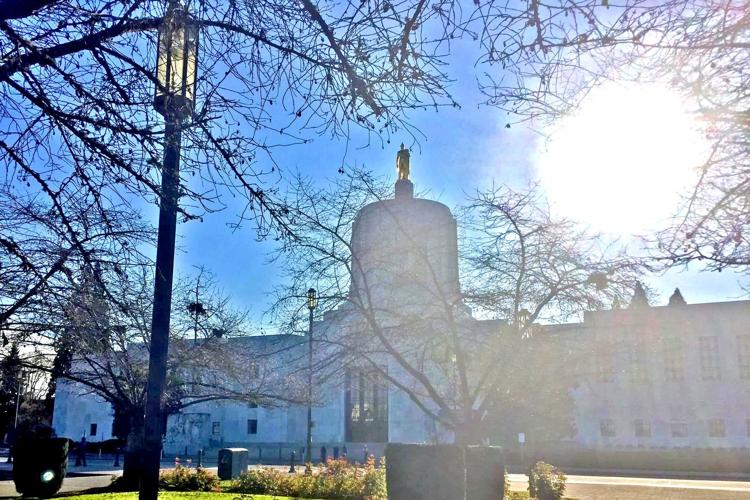 House Rules Committee Democrats have voted to issue subpoenas on the absent House Republicans requiring them to testify at the Capitol on March 5 to justify the boycott. This past year, Democratic Gov. Kate Brown ordered state troopers to find absent Republicans.
Democrat leaders have said the walkout puts on hold legislation related to the state's housing and homelessness crisis, upcoming wildfire season, and hundreds of other bills that have cleared public hearings, open debates on amendments and committee votes.
Senate Republicans announced plans to boycott SB 1530 after it advanced out of the budget committee Feb. 24. If enough Republicans don't show up for a session, Democrats are denied the two-thirds quorum needed to carry out lawmaking and meet deadlines.
Senate Republican Leader Senator Herman Baertschiger issued a statement that said Senate President Peter Courtney (D-Salem) left no other option for Senate Republicans but to "boycott and deny quorum because cap and trade is on the way to the Senate floor."
Amendments that Senate Republicans floated were voted down by Democrats, including sending the bill to the voters. State Sen. Betsy Johnson (D-Scappoose) was the only Democrat who supported a citizen vote on the bill.
House Speaker Tina Kotek (D-Portland) called out Senate Republicans for walking off the job a third time in a year. She said legislators shutting down the government is a crisis for Oregon's democracy.
Senate Republicans recently proclaimed that counties representing nearly 2 million Oregon residents have adopted resolutions opposing cap and trade or SB 1530. Baertschiger said resolutions against a "gas tax disguised as an environmental bill" speak to a majority of counties standing against cap and trade.
Johnson and State Rep. Brad Witt (D-Clatskanie) issued a statement as the news of a walkout broke. They said SB 1530 would result in no significant environmental gains but would greatly burden the pocket books of constituents.
"The only way to save pulp and paper mills and Oregon manufacturing is to stop the politicking and get serious about a carbon reduction policy that doesn't annex our state into California, where there are no pulp mills thanks to the cap and trade program," the legislators said in their statement.
The walkout marks consecutive legislative sessions in which Senate Republicans have blocked the passage of a law capping greenhouse gas emissions by walking out. The 2019 legislative session was marked by a week-long Senate Republican walkout in protest of House Bill 2020.