Grab your umbrella and warm coat, it likely will be cooler and wetter than normal this winter in the Pacific Northwest, according to the latest winter weather forecast from the National Oceanic Atmospheric Administration (NOAA).
The NOAA forecast favors warmer, drier conditions across the southern tier of the U.S. and cooler, wetter conditions in the North, due in part to an ongoing La Niña.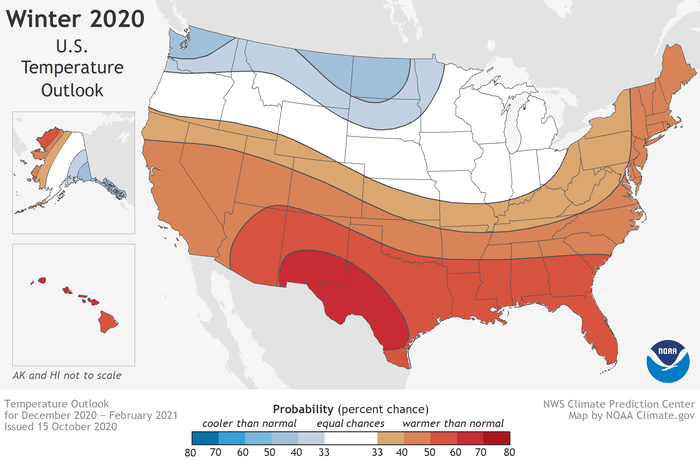 National Weather meteorologist Clinton Rockey in Portland said the La Niña effect shifts the storm track from the southern hemisphere around Africa to the Pacific Northwest.
"Storms are more juicer and the jet stream is over us more often with a more persistent storm track," he said. "That means we would see more snowpack in the mountains."
Rockey said La Niña can also produce three elements that could bring snow to lower elevations, including Lincoln County.
"Cold off shore flows, an air mass in place and moisture from the pacific, all three rarely come together often and that is what makes the snow chance at lower elevations," he said.
Rockey said under the La Niña, winter temperatures in the lower elevations of the Pacific Northwest can range from the mid 40s to low 50s-day side and from the 20s to 30s overnight.
Below-normal temperatures are favored in southern Alaska and from the northern Pacific Northwest into the Northern Plains, with equal chances for below, near, or above-average temperatures in the remaining regions, according to the NOAA forecast. More modest probabilities for warmer temperatures are forecast in the southern parts of the west coast, and from the Mid-Atlantic into the Northeast. Above-average temperatures are also favored for Hawaii and western and northern Alaska.
NOAA's Climate Prediction Center forecasters— a division of the National Weather Service — are also closely monitoring persistent drought during the winter months ahead, with more than 45% of the continental U.S. now experiencing drought.
"NOAA's timely and accurate seasonal outlooks and short-term forecasts are the result of improved satellite observations, more detailed computer forecast modeling, and expanding supercomputing capacity," acting NOAA Administrator Neil Jacobs states in a release posted on the NOAA website.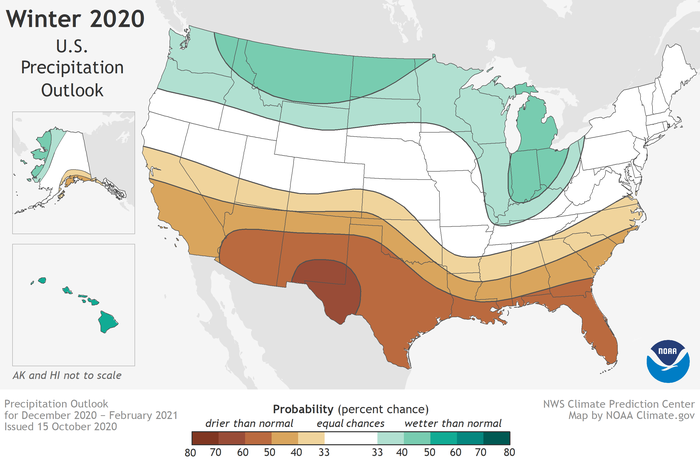 Currently, large areas of drought extend over the western half of the U.S., with parts of the Northeast also experiencing drought and near-record low stream flows. With a La Niña climate pattern in place, southern parts of the U.S. may experience expanded and intensifying drought during the winter months ahead, according to NOAA.
"With La Niña well established and expected to persist through the upcoming 2020 winter season, we anticipate the typical, cooler, wetter North, and warmer, drier South, as the most likely outcome of winter weather that the U.S. will experience this year," NOAA's Climate Prediction Center Deputy Director Mike Halpert said.