Neah-Kah-Nie School District has been collaborating with Rinehart Clinic to get students 12 and older vaccinated with the COVID-19 vaccine Pfizer, the vaccine authorized for this age group.
Rinehart Clinic had worked with Neah-Kah-Nie High School, primarily superintendent Paul Erlebach and high school principal Heidi Buckmaster, when teachers were eligible to get vaccinated in early February. Two vaccine clinics were held for the teachers in the high school gym.
"When it became apparent that Rinehart Clinic needed to vaccinate more community members than our clinic could accommodate in one day, I reached out to both Paul and Heidi again to see if we could once again use an area of the high school on a weekly basis to hold mass vaccination clinics," said Clinic Manager Delta Holderness, of Rinehart Clinic. "This started in early March. Typically, we were giving out 300 COVID-19 vaccines in one day."
Holderness said the student vaccinations began when 16 and 17 year olds became eligible for the Pfizer vaccine. Adventist Health Tillamook had recently received their ultra-cold freezer in order to receive the Pfizer vaccine and distribute to clinics in the county.
"A letter was created by Rinehart for the school to email out to the parents and students with all information on how to schedule their appointment and where the students should come on the high school campus to get their vaccination," Holderness said. "We needed to move quickly as some of these older students were seniors and would be graduating before the end of the school year. We just administered this group of students' second Pfizer vaccine May 27."
When ages 12-15 were eligible to start receiving the vaccine, another letter was emailed to parents and students, Holderness said. The State of Oregon states parent permission is required for children 14 and younger to receive a vaccine.
"Rinehart provided over 200 copies of this packet to be distributed by the school to the students to take home for their parents to read," Holderness said. "We were under a tight time frame, due to the end of the school year fast approaching, and we were worried that parents might not see the email in time to get their child registered."
Rinehart Clinic moved quickly to get the first shots scheduled so the second doses could be administered before the end of the school year.
Nehalem Elementary School Principal Kristi Woika and her children, Neah-Kah-Nie Middle School sixth grader Carter and Neah-Kah-Nie High School freshman Daisy, have been vaccinated. Kristi is fully vaccinated and Carter and Daisy received their first dose Thursday, May 20. Kristi said she decided to get the vaccine after a friend's mother-in-law died from COVID-19 and hearing about long-haulers, those who have lingering symptoms of COVID-19 for weeks or months. Kristi said another reason she got vaccinated is because, as principal, she interacts with students, parents and staff regularly.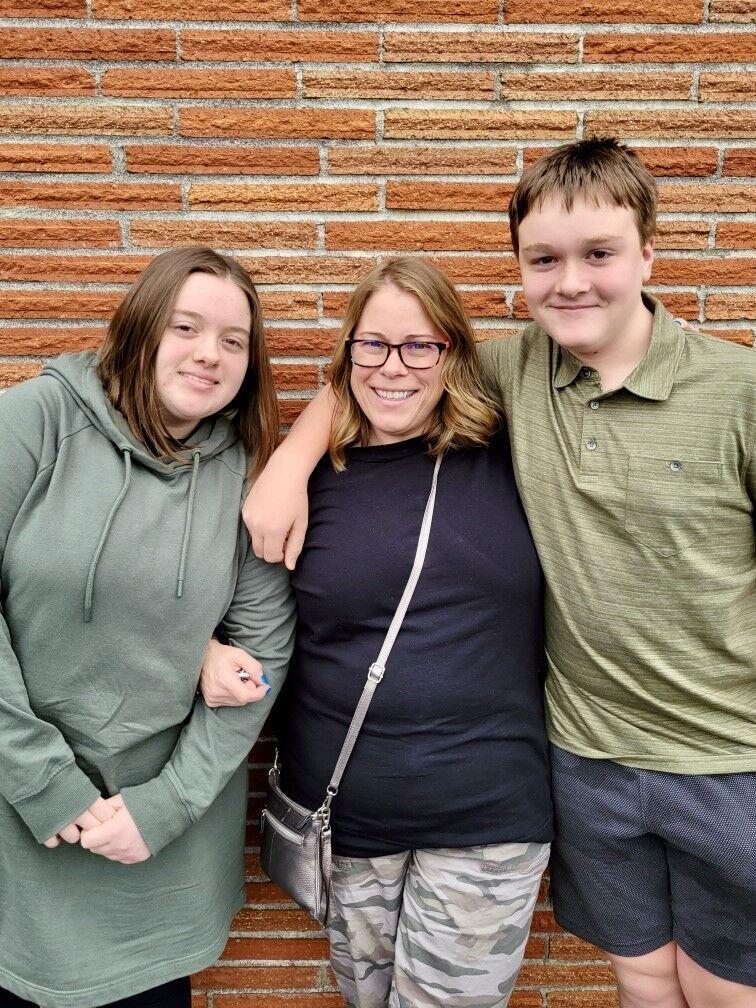 Kristi said she attended several meetings to learn more. She trusted medical experts, did research and decided to get the vaccine to keep her family safe.
"I had some one-on-one conversations with our school nurse," Kristi said. "I just decided that I feel like I have to trust people who do this for a living."
The day after they received their vaccines, Carter and Daisy reported sore arms. They both said it was an easy shot. They both received the shot at school and went back to class afterwards. Daisy was tired after receiving her first dose, sleeping 12 hours the previous night after receiving her shot.
"I barely felt anything," Carter said. "It was a real easy shot."
Carter said he wanted to get vaccinated because he hates wearing face masks, especially in his physical education class. He also read that once someone is fully vaccinated, they could now go inside some businesses without masks on.
"I haven't been able to hang out with friends and family for like a whole year," Daisy said.
Daisy looks forward to hanging out with friends outside of school once she is fully vaccinated and not worry about social distancing and wearing face masks.
People who are hesitant about getting the vaccine should talk their time and do their research, Carter said. He added the vaccine is better than getting the virus and having to go to the hospital.
"I think the district did a really good job of educating people," Kristi said. "We have a pretty high rate of vaccinations within the school district. I think it's because the school district did a really good job getting outside experts to talk about the vaccine."
Lilly Cram, a freshman at Neah-Kah-Nie High School, said getting the shot makes her feel more comfortable around older family members and people in general, knowing she is vaccinated. The vaccine was quick and everyone was friendly, she added.
"They even passed out little toys and things like that to make the younger kids feel more comfortable," Cram said.
The day after she got her shot at school, Cram said her arm was a little sore. She had been asked prior which arm she would like the shot so she could avoid moving her arm when possible. Her family will soon be fully vaccinated, as her parents and brother are also vaccinated.
"Rinehart Clinic is dedicated to ensuring our community is healthy and by providing vaccines where the students reside during the day can be a huge help to parents who work," Holderness said. "Once our time is complete at the high school – June 10 is our last day – Rinehart Clinic will continue to vaccinate anyone who is eligible at the clinic."
Currently, Rinehart Clinic is scheduling for first and second doses on Tuesdays and Thursdays and will hold mini-vaccine clinics for those ages 12-17 and for anyone else who might prefer the Pfizer vaccine to Moderna, which is authorized for those 18 and older.