Here we are in June already. I am at a loss as to figure out why the winter months of January and February seem to drag on and then comes May and June and boom! Just like that we are into summer. Allow me to quote my favorite garden author Gertrude Jekyll (1843 - 1932) when she says June is "… the time of perfect young summer, the fulfillment of the promise of earlier, and with as yet no sign to remind one that its fresh young beauty will ever fade…."
Gertrude hasn't been the only one to appreciate the beauty that is June. The roses are at their peak, the days linger into long evenings, the birds are happily singing, and the butterflies and bees are flitting from blossom to blossom to gather the sweet nectar.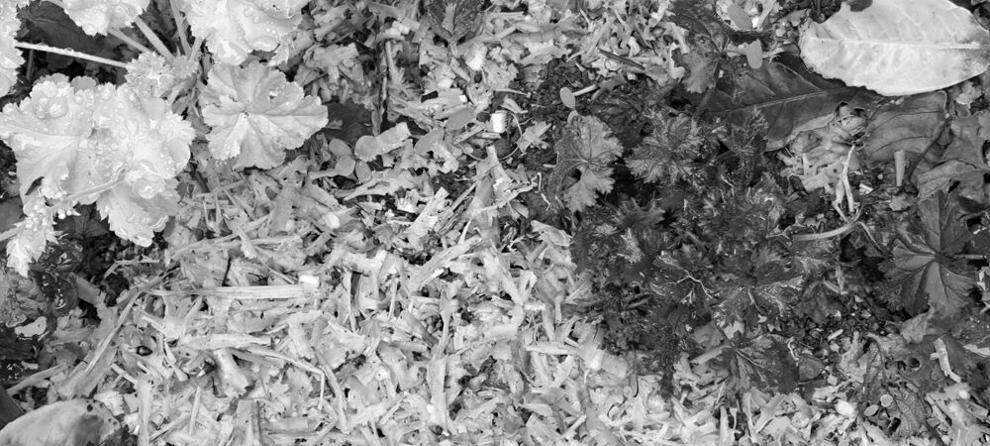 June seems to be the perfect month to enjoy the results of hard gardening work in March, April and May. Taking a few moments each day now to pluck a few weeds as they poke through or deadhead the spent blossoms of annual flowers is light work considering the heavy-lifting times of planting and transplanting perennials or putting in the vegetable patch.
But there are a few chores left to be done this month and one of them is mulching. Once the flower and vegetable beds have been weeded and the ground has warmed, a thick layer of mulch can be spread around the plants to keep future weeds at bay as well as keeping moisture in the soil during the warming days and the summer sun. I like to use cedar shavings around the plants as that seems to keep a lot of the summer insect pests away as well.
Perhaps a little clarification is in order. When I say mulch, I am not referring to compost, although over the years the terms have been used almost interchangeably. Compost is the organic decayed matter that is worked into the soil to improve nutrients. It can be purchased or made in the backyard in compost bins or piles. It can be made up of twigs and leaves, kitchen scraps like banana peels, egg shells, and even some paper products like unbleached paper coffee filters or paper towel rolls. Over time, it biodegrades into a soil-like matter that is used as a nutritional amendment. While compost does act much as a fertilizer would, it is not considered to be fertilizer. Chemical fertilizers feed the plants while compost feeds the soil.
Mulch, on the other hand, is a top dressing and can be organic - like lawn clippings or shredded wood – or inorganic like shredded rubber or gravel. Mulches are used to keep weeds from growing, maintain moisture in the soil, and reduce erosion. Organic mulch will in time break down and add nutrients to the soil much in the way compost does. But while inorganic matter will limit weed growth, moderate soil temperatures and help with erosion, it will not break down to improve soil structure or add nutrients.
Compost is mixed with the soil. Mulch is laid on top of it. If you rake those leaves in the fall and place them around the plants, they are mulch. If you mix the leaves in with other organic matter in a compost pile, let them decay, and then spread them around the plants, that is compost.
Bark chips are a common mulch for flower beds. The larger chips have the benefit of not breaking down as quickly as the smaller chips, which can be an advantage as well as a disadvantage, depending on your needs and willingness to buy small chips more often.
So, which should you use? The answer depends on what your goals are. If you are looking to enrich the soil for better production of flowers and vegetables, use compost. If your goal is fewer weeds and control of erosion, mulch is better. Ideally, a gardener wants both: higher production and fewer weeds. In which case, a combination is best.
To do that, you will need to gently mix well-decayed compost into the soil around each plant, being careful not to harm tender feeder roots. (The best time to compost is actually before the beds are planted so the soil and compost can be well-blended. But by June, that opportunity has passed.) Then once the soil has warmed, and after a good rain, spread organic mulch around each plant as a top dressing.
As mentioned before, organic mulches will eventually break down but that probably won't happen until after the next winter's rains. So, you will have a groomed look until then and retain moisture as well. But to prevent too much moisture being held in the soil during the winter, rake some of the mulch away from the drip line of the plants in late October or early November. This will allow some of the soil's moisture to evaporate instead of being trapped by the mulch.
And now it's time to appreciate the flowers and fruits of our labor. To quote Gertrude once again, "June is here – June is here; thank God for lovely June!"