In my last column, I talked about pollinators and how important they are. Claire Moody of the Tillamook Beekeepers Association also had a nice guest editorial in that same edition about being a beekeeper. She offered lots of tips about keeping bees and encouraged gardeners to explore beekeeping by going to www.tillamookbeekeepers.org for more information.
But those of us who don't want to get into keeping honey bees can also do a variety of things to draw "wild" bees to our gardens. For example, the shy but effective mason bee is easy to tempt to the garden. Every creature needs the basic three things to survive: water, a reliable source of food, and a safe shelter to raise their families. Mason bees are no different and we can support them by catering to their needs.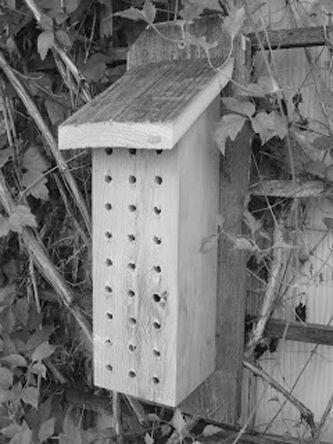 Water can be in the form of a fountain, pond or even a bird bath. That's easy. Pay attention to keeping the water source clean and refreshed. That may mean cleaning every day or every week, depending on the type of water source.
Food comes in the form of plants that bees like for their pollen. For mason bees, the food source needs to be within 300 feet of their nests because that is the top distance they will travel. There is a wide range of good nectar-producing perennials. Native wildflowers are best, but if you try poppies, alyssum, brown-eyed Susans, and asters you will have a long season of pollinating blooms.
As to shelter, mason bees like cracks and crevices. But to draw them in, you can find premade mason bee houses or plans for making your own online. I know many Tillamook gardeners who have installed houses for mason bees with great success. Attracting mason bees is a way to have pollinators that doesn't involve actual bee hives. Mason bees are famous for being non-aggressive while still being excellent pollinators. There are over 130 different types of mason bees just in North America. One of the most interesting facts about mason bees is that they are solitary bees so every female is a queen bee and since there are no worker bees, each queen makes her own nest.
Mason bees will lay their eggs in the spring and by August, the bees have reached full size. But then they hibernate for the winter. Once the weather warms in the spring, the bees emerge as adults. The males emerge first and wait for the females to emerge so they can be fertilized.
A female mason bee will live about six to eight weeks and can lay about 15 eggs in the tubes during her lifespan. Male mason bees stick around only about two weeks, and once they have fertilized the females, they die. (You can tell a male because he will have a white nose.) After the females are fertilized, they get to work to build or find nests for the eggs. The females will look for pollen and it takes about 1800 visits to flowers to gather enough pollen for one egg. Ms. Mason Bee certainly is a hard worker!
Each nest looks like a hollow tube about the size of a pencil. Once the female has found a suitable tube, she gathers some pollen, stuffs that in the nest, lays an egg and packs the tube with mud. Then she returns for more pollen, lays another egg in another tube and packs that tube again with mud. The queens will repeat this process until all their eggs are laid and tucked away with mud. Thus, the name "mason bee." So, a source for mud as well as water is helpful, too. While they are solitary bees, the females don't seem to mind sharing their housing and so several bees will set up nests in the same "condo."
Place the mason bee house close to plants that need pollinating, like near the vegetable garden or orchard. Keeping it elevated at least 4 to 10 feet and away from predators is a good idea as well. Morning sun will help the house stay warm and it also needs to be protected from rain and wind.
There are free plans online for building your own mason bee condo or you can buy kits and ready-made houses at www.kinsmangarden.com. They range in price from $13 for a 52-tube nest kit to $60 for a ready-made cedar housing with 195 tubes. Kinsman also sells 100 replacement tubes for about $15. They are also available on other sites like Gardeners Supply.
An easy way to make your own is to take a 4" x 4" x 14" pine post and a 5/16 drill bit and drill a series of holes about 3" deep. Pine is best as cedar, redwood, and treated lumber are toxic to insects, including bees. You can make the holes in a random pattern or a series of rows and columns. This is your personal choice as the bees are not at all fussy about the design of their houses.
I think I am going to try to attract mason bees to my garden this spring. From what I have read, if you build them a house, it doesn't take long for them to set up their nests. It's kind of like "build it and they will come."