For the past year while we are dealing with the pandemic, we have heard a lot about those most heroic and caring nurses that have given their time - and sometimes their lives – to care for those most seriously affected by Covid. Having nurses and doctors in our family, I know how hard they have worked and how under-appreciated they are. So, if you know a nurse – even if you haven't been directly helped by one – thank them for giving so much of themselves. It has been a tough year for them all.
But did you know there are nurses in nature, too? Plants that give of themselves to support others. Most often these are fallen trees that are called "nurse logs." The next time you take a walk in the woods, look for them in the understory of the forest.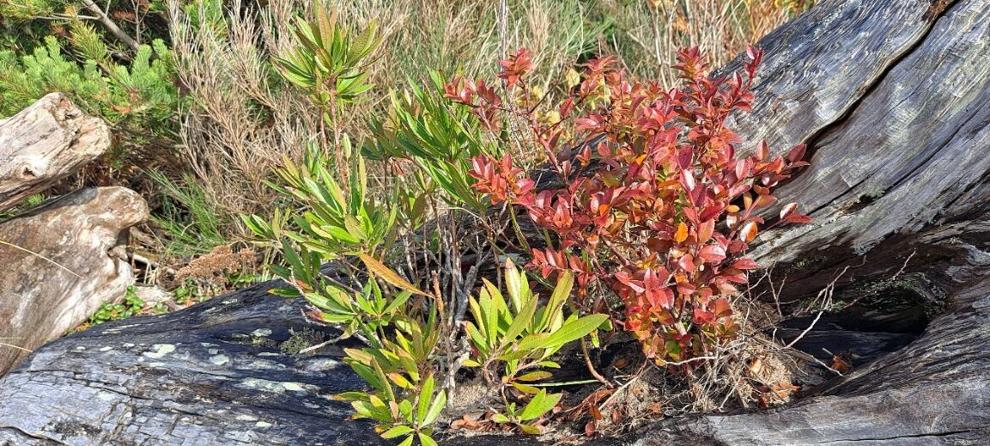 The Pacific Northwest forests are perfect places to find nurse logs. This is partly because our trees grow so large and so tall. We have a wide variety of large trees, too, like Sitka spruce, Douglas firs, cedars and hemlocks. Some of these trees are so large you can't wrap your arms around them, even when trying with a friend on the other side. So when they fall, they fall hard. And usually fall on top of other plants like ferns, mosses and lichens that inhabit the forest floor. Fallen trees also allow more sun and rain to reach the floor of the woodlands.
Decay is a very important part of a rejuvenating forest and the older and larger the tree, the longer it will take to break down and decay. And decaying wood is much easier to grow in. It is not as dense as live wood and contains nutrients that are readily taken up by seedlings. Many times, a tree starts to decay as a snag, with fungi and insects helping in the decaying process. By the time it falls to the forest floor, it is already in a state of decay that make it easier for seeds to grow. Other trees are healthy when they fall, being uprooted by high winds or humans. Once they start the decaying process, they, too, will make great nurses.
Think about it: millions and millions of tiny seeds fall from cones at the height of a healthy tree and need to drift all the way to some bare soil hundreds of feet below. Between the top of a tree and the fertile ground lie all sorts of impediments like shrubs, ferns, and vines on the forest floor. And that doesn't even take into account the covering of needles, mosses and lichens that carpet the soil under all those evergreen trees that make their home in the Pacific Northwest.
But if that tiny seed can find purchase in a welcoming nurse log that sits above the forest floor, it just makes it easier to sprout and grow. There is more surface for the seeds to land on when the tree lies horizontally. The moisture content available to the roots of a seedling is more consistent in a decaying tree than on exposed soil which has a tendency to dry out. The curvature of a nurse log will perhaps keep falling needles and leaves from smothering the tiny seeds.
Nurse logs have been shown to provide a substrate that is different than that of the forest floor. This means the logs increase the habitat for a wider variety of plants of the next generation. Studies done in Washington state's coastal forests have found that nurse logs support 90% of Sitka spruce and hemlock, while Douglas fir, alder and big leaf maple prefer the forest floors. This gives a wider diversity of plants in the same region. Additional reports have found that, in other forests, nurse logs support about the same amount of variety as the forest floor.
Nurse logs will continue to nurture those seedlings until the nurse logs have completely decomposed. This can take decades or even centuries as a log will decay at approximately the same rate as it took to grow to maturity. Look closely at the forest floor when you are next in the woods and you may see the remnants of a very large tree that is still supporting a mature tree.
But it is not only tree seedlings that are found on nurse logs. Smaller shrubs like Pacific wax myrtle and evergreen huckleberry can be seen in this photo of a shore pine nurse log.
While nurse logs are certainly prominent in our coastal temperate rain forests, they are found in many, many forests all over the world to varying extents. In any case, they provide a snapshot of generational support for us to consider and reflect upon. Nurse logs have been supporting new generations for centuries and will continue to do so long into the future.
Another "nurse" to thank.