Usually, my last column of October features something spooky like spiders or bats to celebrate Halloween. But this year I am taking a different track and offering some ideas for autumn decorating using – what else? – succulents.
It is no secret I have a new love affair with succulents and have been writing about them for several months now. But now that I have quite a selection…what can I do with them besides putting them in pots on all my window sills?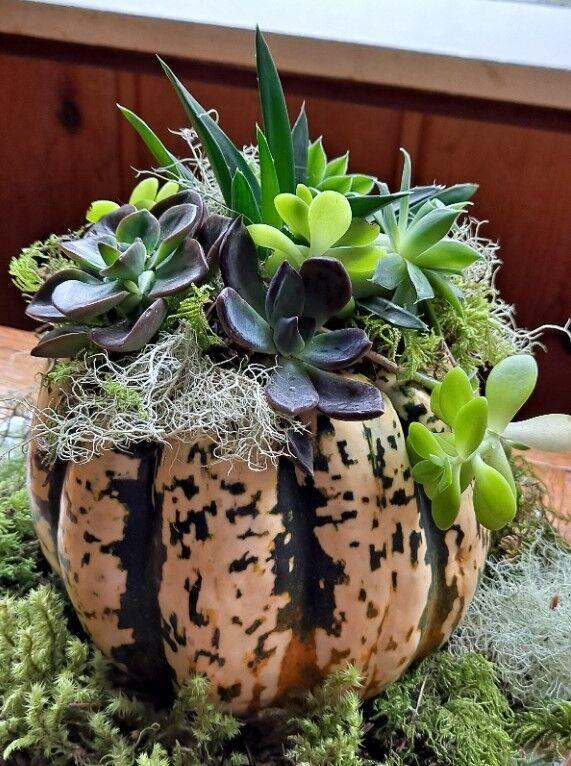 Well, a friend from southern California sent me a couple of articles about using pumpkins as the base for a Halloween arrangement. A fun thing is they will last a long time and can be used for Thanksgiving decorations, too.
You will need to gather a pumpkin or squash of the size you want (I used a 'Carnival' squash because I liked the green and white stripes) and a variety of succulents in several sizes that will balance the size of your pumpkin. I used some black-toned Echeveria succulents as well as some black-tipped green ones and a type of trailing sedum. You will also need a bag of the type of moss you prefer. If you chose to harvest moss from the woods, you will want to lay it out on newspaper to dry for a couple of days so it will hold to the glue.
A can of spray craft adhesive and a hot glue gun or tacky glue will make the project easier and last longer. You may want to have a set of pruners at hand to trim any long stems from the succulents. If you happen to have a lazy Susan, placing the pumpkin on it will make it easier to spin around and place the moss and the succulents. I have a left-over one I used to use with my bonsai a few years ago that suits this project perfectly.
You won't cut into the pumpkin (or squash) at all, and it will last a long time. But do trim off the stem if it is too long. You want a relatively flat top surface to work on. First, lay out the moss and succulents on top of the pumpkin so you will have an idea of where things will go before you glue them down. This way you can rearrange, add or subtract to suit your taste.
Next, spray the top of the pumpkin with the adhesive spray. This is no time to skimp because you want a well-adhered base to work with. Should you not have spray adhesive, you can use hot glue. Glue the moss in several sections around the top of the pumpkin and press it down onto the adhesive so it will hold. Give it a few minutes to dry. (Take care in using a hot glue gun…that glue is hot!)
In the meantime, prepare your succulents. You will need to remove as much soil as possible and remove any shriveled leaves. Cut back the succulent stem to just above a node, leaving a little more than an inch of stem.
Now take a sizeable spot of tacky glue or hot glue and place it on the moss. As with any floral arrangement with a "thriller, a filler and a spiller," I like to start with a statement succulent and place it in a prominent place. Press this "thriller" succulent onto the glue and hold in place until dry. Then you can move to the next "filler" succulents: those that are perhaps a bit smaller or of a different variety. As with the first succulent, put the glue on the moss and then press the plant firmly. As you move around the pumpkin, fill in as much as you can with medium and small-sized plants.
Now for the "spillers." These can be trailing succulents like string-of-pearls, string-of-turtles, or donkey tails. (Don't you love the names?) Or you can use trailing sedums from the garden. Tuck these into spots around the edges of the arrangement so they will hang down the sides of the pumpkin. Glue to the moss as you did the other plants.
You may find you have a few gaps but they can be filled in with extra pieces of moss or even lichen which give it a nice look.
And "Voila!" A centerpiece for your table or an arrangement for your porch. Keep in mind, some of these succulents like the Echeveria can't take extreme cold and none of them like a lot of rain, so they need to be protected from the weather. If you are keeping them inside, this is one case when you can spray the succulents when they start to look a little withered or if you start to see tiny root hairs forming. Once every week to ten days is plenty. Another tip for a table arrangement is to place a plate or clear plastic tray under the pumpkin to protect the table. Alternatively, a small piece of cardboard under the pumpkin will keep it from rotting too quickly. You can disguise this by additional moss around the base.
Place your pumpkin in as much sun as possible so they retain their color and don't start to stretch. At the end of the season, take a sharp knife and gently cut the succulents off the moss, above a node if you can, and re-root them as usual.
Happy Halloween!