Kyle Uptegrove and Breanna Uptegrove have successfully launched their new business Pacific Roots Donuts, a mini-donut and coffee cart located behind the Nehalem Riverside Trading Company, along the beautiful Nehalem River (35915 HWY 101, Nehalem, OR 97131).
Their grand opening was held on April 20th hosted a fun group of locals and friends and of course mini-donuts.
The couple began their entrepreneurial endeavors starting as a small coffee roasting company in 2017.
"As we were thinking of how to grow and expand our business in 2020, we came upon this idea of starting a mini-donut cart in the middle of a pandemic, with a baby on the way.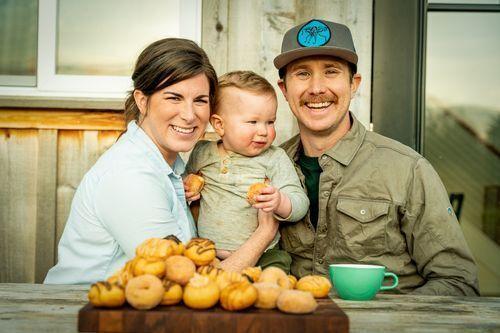 Fast forward to April 2022, here they are making it happen.
"It's been pretty wild for us, and we are so thankful for all the love and support we have gotten from our community," said Uptegrove.
The Uptegrove's mini-donuts are made fresh, on the spot, when you order them. They serve locally-roasted coffee and are passionate about incorporating local ingredients into their menu - from sea salt to honey to their prolific blackberries.
"These are the kind of donuts you can feel good about," said Uptegrove.